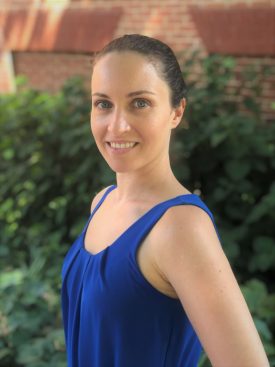 RAQUEL ESPIN PALAZON
Raquel Espin Palazon is an Assistant Professor at Iowa State University (ISU), Department of Genetics, Development and Cell Biology (GDCB) in the College of Agriculture and Life Sciences (CALS).
In 2008, she received her B.S. from the University of Murcia (Spain), where she majored in Biology with a concentration in Molecular Biology and Biochemistry. She was an undergraduate researcher with Dr. Victor Mulero studying the role of Tumor Necrosis alpha during viral infections.
In 2013, she received her Ph.D. in the lab of Dr. Victor Mulero at the University of Murcia. Her dissertation was on the in vivo functional characterization of the Tumor Necrosis Factor alpha receptors.
From 2013-2019, she was a postdoctoral fellow with Dr. David Traver in the Department of Cellular and Molecular Medicine at the University of California, San Diego (UCSD). She studied the role of pro-inflammatory signals during hematopoietic stem cell formation.
HONORS AND AWARDS
2022 Pew Biomedical Scholar nominee, selected by Iowa State University
2022 GDCB Early-Career Research Award
2023 – 2024 K01 Mentored Research Scientist Career Development Award supplement
2017 – 2022 K01 Mentored Research Scientist Career Development Award
2016 – 2018 American Heart Association (AHA) Postdoctoral Scholar
2014 – 2015 Fundación Séneca, Agencia Regional de Ciencia y Tecnología Postdoctoral Scholar
2011 – 2012 Short-Term Research Scholar from Fundación Séneca, Agencia Regional de Ciencia y Tecnología. University of California at San Diego, La Jolla, CA – Mentor: Dr. David Traver
2012 Travel Award, 10th International Meeting on Zebrafish Development and Genetics
2011 Best Scientific Poster, Annual Zebrafish Disease Model 4 (ZDM4), Edinburgh, Scotland
2010 Travel Award, 9th International Meeting on Zebrafish Development and Genetics
2010 Short-Term Research Scholar from Fundación Séneca, Agencia Regional de Ciencia y Tecnología. National Center for Cardiovascular Research (CNIC), Madrid, Spain. Mentor: Nadia Mercader Huber
2009-2013 Graduate School Fellow by Fundación Séneca, Agencia Regional de Ciencia y Tecnología. University of Murcia, Spain
2009-2013 Graduate School Fellow by the University of Murcia. University of Murcia, Spain. (Declined)
2009-2013 Graduate School Fellow by the Spanish Ministry of Science and Education. University of Murcia, Spain. (Declined)
2008    Young Researcher's Scholar by the University of Murcia. University of Murcia, Spain
2008    CICERONE Scholar, Spanish National Centre for Cardiovascular Research
2007    Undergraduate Research Scholar by the University of Murcia. University of Murcia, Spain
 CONTACT
Raquel Espin Palazon
Iowa State University
Advanced Teaching and Research Building (ATRB)
2213 Pammel Dr.
Ames, IA   50011 (USA)
Email: espin@iastate.edu